Internet Bundles
cheap internet deals
What is HughesNet?
HughesNet is a satellite Internet Service Provider (ISP). It's perfect for remote and rural areas because its coverage area is one of the biggest in the US. It offers broadband internet speeds to most of the country.
What is HughesNet Gen 5?
The newest version of HughesNet internet service is here and it's called HughesNet Gen 5. It's faster and lets you use more data.
HughesNet Gen 5 comes from the newest HughesNet satellite, EchoStar XIX. This enormous satellite delivers broadband speeds using JUPITER™ System technology. This improved tech allows HughesNet to offer faster internet speeds to more people than ever before.
How fast is HughesNet internet?
HughesNet has download speeds up to 25 Mbps and upload speeds up to 3 Mbps.
HughesNet Internet And TV Package?
You can pair your HughesNet satellite internet with TV service from DIRECTV or DISH. Both have great deals on packages that include sports, news, premium, and local channels. DIRECTV packages start at $35 per month, and DISH TV starts at about $60 per month.
Most Popular HughesNet Plans
HughesNet 10 GB / $59.99/mo. / Up to 25 Mbps
HughesNet 20 GB / $69.99/mo. / Up to 25 Mbps
HughesNet 30 GB / $99.99/mo / .Up to 25 Mbps
HughesNet 50 GB / $149.99/mo / .Up to 25 Mbps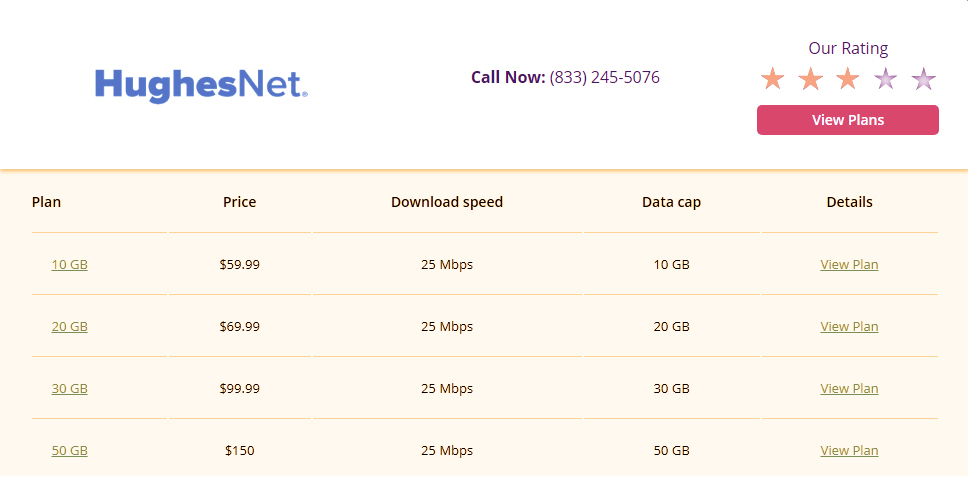 Unlimited Data
All HughesNet plans have no hard data limits. If you exceed the amount of data in your plan, we won't cut you off or charge you more. Stay connected at reduced speeds, typically 1-3 Mbps. The Gen5 service plans allow you to choose from four different sizes of data plans. These plans each come with a set amount of data at 25 Mbps. If you exceed the data in your service plan, your speeds will be reduced.
Area Served
HughesNet offers service in 51 states and territories.

HughesNet offers satellite internet access.

HughesNet offers service in 32,989 zip codes nationwide
Can I use VoIP with my HughesNet Internet Service?
Not only can you use Voice over Internet Protocol (VoIP) over HughesNet, but HughesNet offers its own satellite phone service called HughesNet Voice. It uses VoIP technology, but it won't count against your monthly internet data like other internet-calling services would.
HughesNet Voice plans start at about $30 per month, but you can get a $10 per month discount for a year if you order both HughesNet Internet and Voice.
Most Recommended Plan: HughesNet 20 GB
This is For: Anyone who casually browse the web and maybe streams a movie or two once in a while.
Why: You shouldn't anticipate ridiculous speeds or large data caps from HughesNet. But what this satellite ISP does deliver on is a lower price than doesn't dramatically spring up during your contract.